京都北部は
丹後に鎮座する大江山。
その中腹にぽつりと佇む当宿。
街の喧騒とは隔絶された
生粋の里山。
少子高齢化が進み、空き家が増え、小学校が廃校になった地域を盛り上げたい。
地元をこよなく愛する仲間たちが、「山のYEAH!」を合言葉に、色んな人の力を借りて、
美味しいもの、楽しいコトを日夜探しながら、皆様のお越しをお待ちしております。
The Oeyama Mountain Range, enshrined in the Tango region of northern Kyoto prefecture.
And our inn is located right in the middle. Deep in the satoyama, it won't be hard to let the city go.
In an area with a declining birthrates, closures of elementary schools, and an increase in vacant houses, we are
livening up the region.For those of you who are seeking out delicious food and unique things to do both day and night,
we are here to make that happen. With the help of passionate locals, we want you to "say Yes! to the mountains."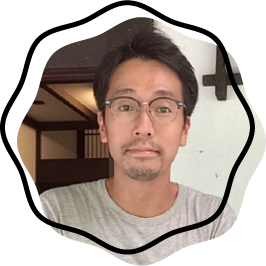 青木 博
Hiroshi Aoki
温江(あつえ)出身の山の家管理人。
接客、調理、予約の管理からトイレ掃除まで何でもやる。
お酒大好き、音楽大好きの元バックパッカー。
楽しそうならとりあえず首を突っ込むアラフォー。2児の父。
Yama no Ie (mountain house) manager from Atsue, doing everything from customer service, to cooking, reservation
management and toilet cleaning. A former backpacker and lover of alcohol and music. If it looks fun, you can be sure
Aoki is involved. He's forty (or thereabouts!) and a father of two.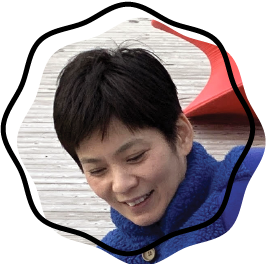 もこ
Moko
好きなものは、美味しいごはんと、美味しい珈琲、
それから、珈琲に合うザクザクのクッキー。
北海道や雪景色や、くすっと笑える可愛いもの、ドライブ、カラフル、ミュージック。
お洒落なカフェもワクワクするね。
I like delicious food, and delicious coffee, And, a cookie that goes well with coffee.
Hokkaido, snow scenes, cute things that make you laugh, Driving, colorful, music. Fashionable cafes are also exciting.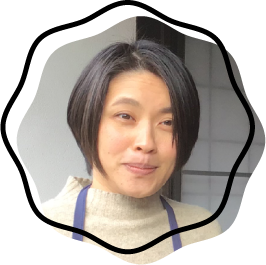 青木 康代
Yasuyo Aoki
管理人青木の妻。平日の日中スタッフとして現れる。
長子の出産を機に温江に移住。
アレルギーの子供たちも一緒に楽しめるおやつを考えるのが趣味。
香川県出身。
Originally from Kagawa Prefecture, Yasuyo is the wife of Yama no Ie's manager, Aoki. You can find her at Yama no Ie
working as day-staff on weekdays. She moved to Atsue after giving birth to the first of their two children. She enjoys
thinking about and creating snacks that children who suffer from allergies can have.